Out of Stock
Artichoke Liver Cleanse
ARTICHOKE LIVER CLEANSE
Liver and Gallbladder Support

Key Benefits:
Helps promote liver detoxification
Aids the digestive process
Traditionally known to help the liver and gallbladder


Product Information Sheet
$23.00
$20.00 on SmartShip
Artichoke Liver Cleanse is a highly effective herbal supplement that supports the liver's natural detoxification processes. Artichoke has been researched and shown to help rid the liver of harmful toxins and support liver functions. This unique supplement has been formulated to provide a simple, natural way to cleanse the liver in only 2 weeks. It can also be used daily to support normal liver and gallbladder functions and support the digestion of fats.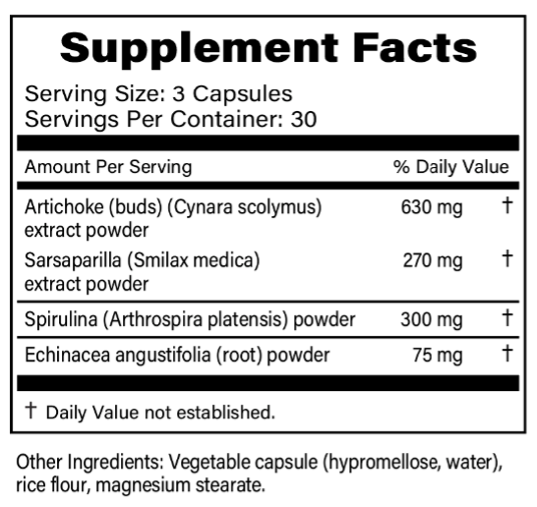 DIRECTIONS

To maintain optimal liver and gallbladder health, take 1 – 3 capsules per day. For a two week liver cleanse, take 6 capsules at bedtime each day for two weeks.
One of the easiest and most effective ways to nourish, cleanse and support the liver is with Artichoke Liver Cleanse from HWH World. Artichoke extract contains powerful bioflavonoids known for their detoxifying properties. It works to cleanse the liver by boosting bile production. This facilitates the liver's natural cleansing and protects the liver while it releases accumulated toxins. After allowing the liver to cleanse and rebuild itself, it can better do its job of protecting the body from harmful substances.
When artichoke is taken as a single dose in the amount present in 6 capsules of Artichoke Liver Cleanse, bile increases 127% after 30 minutes and 152% after 60 minutes. Bile is the vehicle that toxins use to escape the liver, so we must keep it flowing smoothly. These surges in bile production will help you safely and effectively eliminate the accumulations of toxins in the liver. Bile also aids in the digestion of fats in the diet so taking Artichoke Liver Cleanse prior to meals can help assist in this natural function.
Unlike other methods of liver detoxification, it has been shown that artichoke protects the liver from damage as these toxins are being excreted. It is a gentle yet effective way to support liver detoxification in the way our body is already designed to purge toxins. Taking Artichoke Liver Cleanse can also help ensure healthy bowel movements and a healthy gut bacteria balance as bile production is important to both of these functions. Artichoke Liver Cleanse contains Echinacea and Spirulina to nourish the immune system during the cleansing process.